Opis
Stun gun POWER 200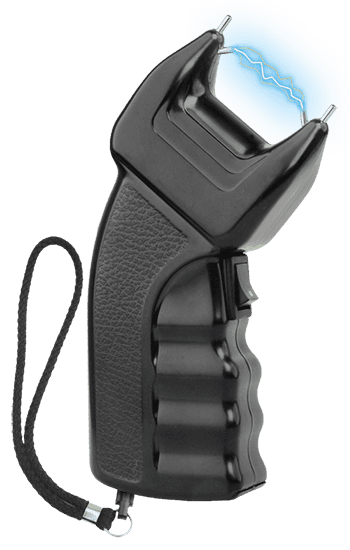 The number of assaults, robberies and other violent crimes is constantly increasing. Many people consequently are concerned about their safety.
Let us offer you a unique solution: POWER 200 is an efficient means of personal defense. One of the most important advantages of stun gun POWER 200 is the hand strap with safety plug. This hand strap hangs off the wrist and makes the stun gun inoperative the moment the device is violently pulled out of the hand. You are defended by a safety fuse against unintentional discharge.
Characteristics of stun gun POWER 200
Protects you against thieves, bullies and wild beasts
A strong electric discharge neutralizes the assailant upon contact with his body
It is effective even through thick layers of clothing (even through leather)
The electric shock will not affect you even if the attacker is grabbing you
It does not leave any psychological or psychical damage
Use and effects of the POWER 200
0.5 second …. short shock, which will startle the attacker and cause muscle contractions
From 1 to 3 seconds …. medium shock which may cause the assailant to fall to the ground and experience mental confusion, but he is likely to stand up after a moment
From 4 to 5 seconds …. full shock, fall, and loss of orientation for several minutes
The POWER 200 is suitable in particular for: women, entrepreneurs, taxi drivers, guards and security agencies, shop assistants, gas station attendants, employees of restaurants and bars, kennel attendants.
Use only a good quality 9-volt alkaline battery Energizer to power the POWER 200. Good batteries have a shelf life of about 4 years.
Figure of POWER 200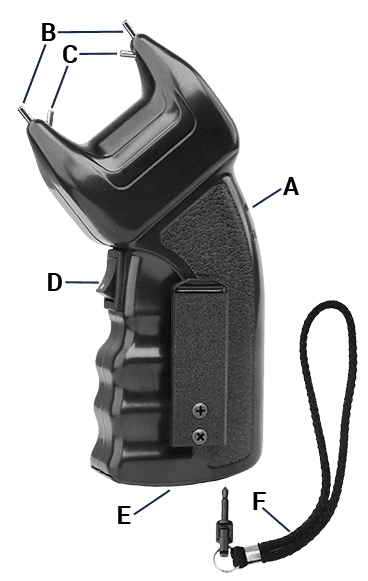 locking switch
contact electrodes
test electrodes
trigger
9V battery
safety plug with hand strap
Main features of POWER 200
200,000 Volts – immediate self-defense
Small, inconspicuous, always at hand
You are defended by a safety fuse against an unintentional discharge
Hand strap with safety plug protects against forced removal from hand
Ergonomic design
Gold plated electrodes
Belt-clip
24-month warranty
We hope that you will never need to use this stun gun and that the device will serve only for a feeling of self-confidence and safety. If you have POWER 200 with you, be assured that you have the right device for your defense